The BlackGlass Window Tinting + More difference!
At our state-of-the-art shop in Coopersburg, PA, we have everything we need to make your vehicle look and feel amazing. We have high garage doors so we can accommodate tractor trailers. This is important for several reasons. Tractor trailer drivers spend many hours on the road with sun beating on their skin, Travis, our Owner, as part if his personal mission wants to protect as many people as possible from the threat of skin cancer. Tractor Trailer window tint will also help with glare and make visibility better & help keep the cab cooler for a more comfortable drive. We also can accommodate fleet vehicles, we are large enough to get the job done, but family owned so your quality is 2nd to none. We also have tinted boats, ATV's, RV's! Honestly, if it has windows, we have probably tinted it!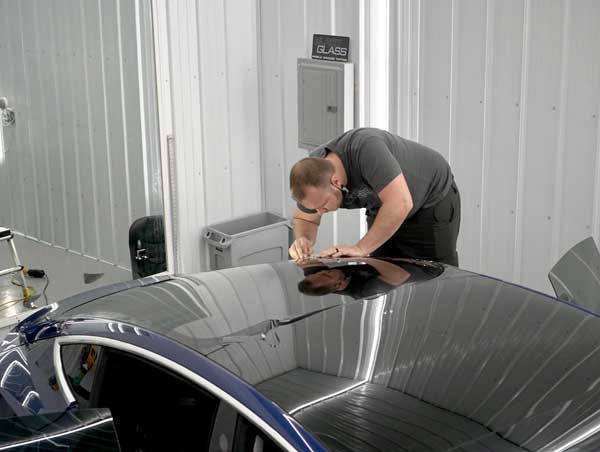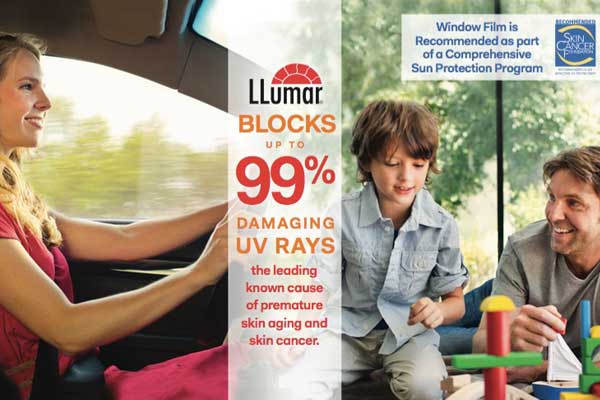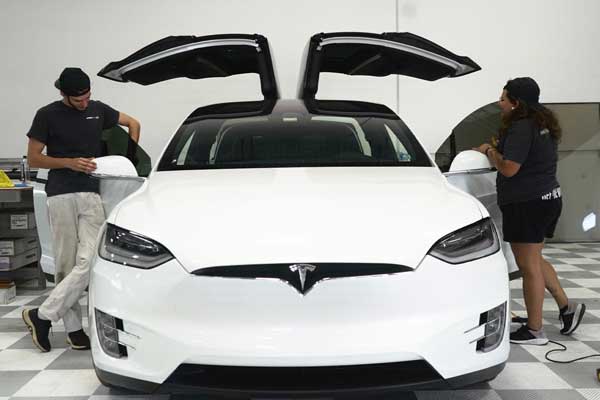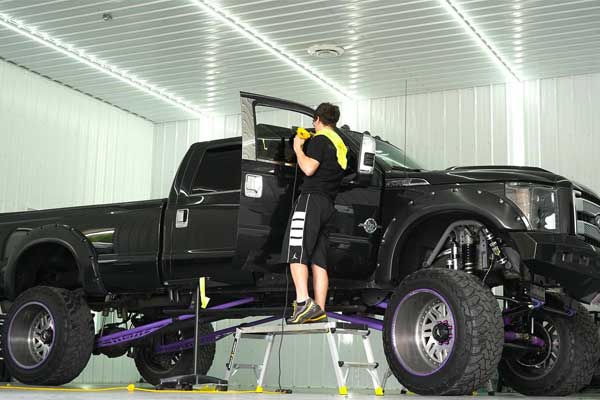 The combination of award-winning products from LLumar & the professional team at BlackGlass Window Tinting + More, you will receive a finished product that will not only look amazing, but will continue to perform for the lifetime of your vehicle. Please contact us today for a personalized quote, or reach out with any questions. Our shop is not only for the car enthusiast who knows exactly what they want we also specialize in helping a novice who may never have tinted a vehicle before. Our team will walk you through the process of choosing what works best for you. We look forward to working with you soon.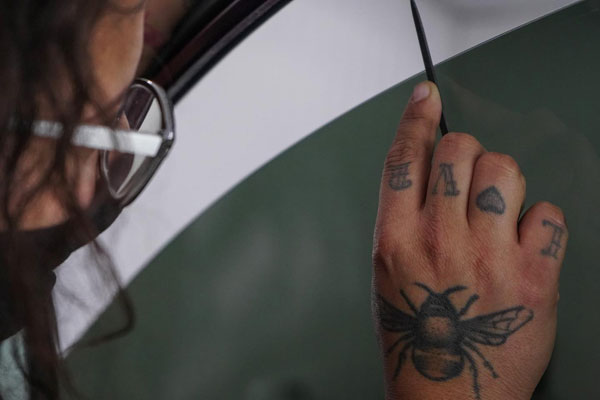 No Matter what you "drive" we can tint it!
Our professional team has tinted nearly every make and model of vehicle on the road today. We have the experience to get the job done right, the first time, every time. If you are looking for reasons to choose BlackGlass Window Tinting + More, see below for just a few.
We Computer-Cut all of our film for a Perfect Fit in your vehicle! This is also done as a protection for your valuable investment, assuring no cuts are made to weather seals, that can occur with traditional hand-cut tinting process.
Shaved Edges – An extra step we take to avoid a gap on your rollups.
We remove the door panels – Another extra step to ensure longevity so that the film's bottom edge is underneath the weather seals.
We use only High Quality, Color-Stable, LLUMAR Window Film; we also offer Ceramic Film for heat rejection.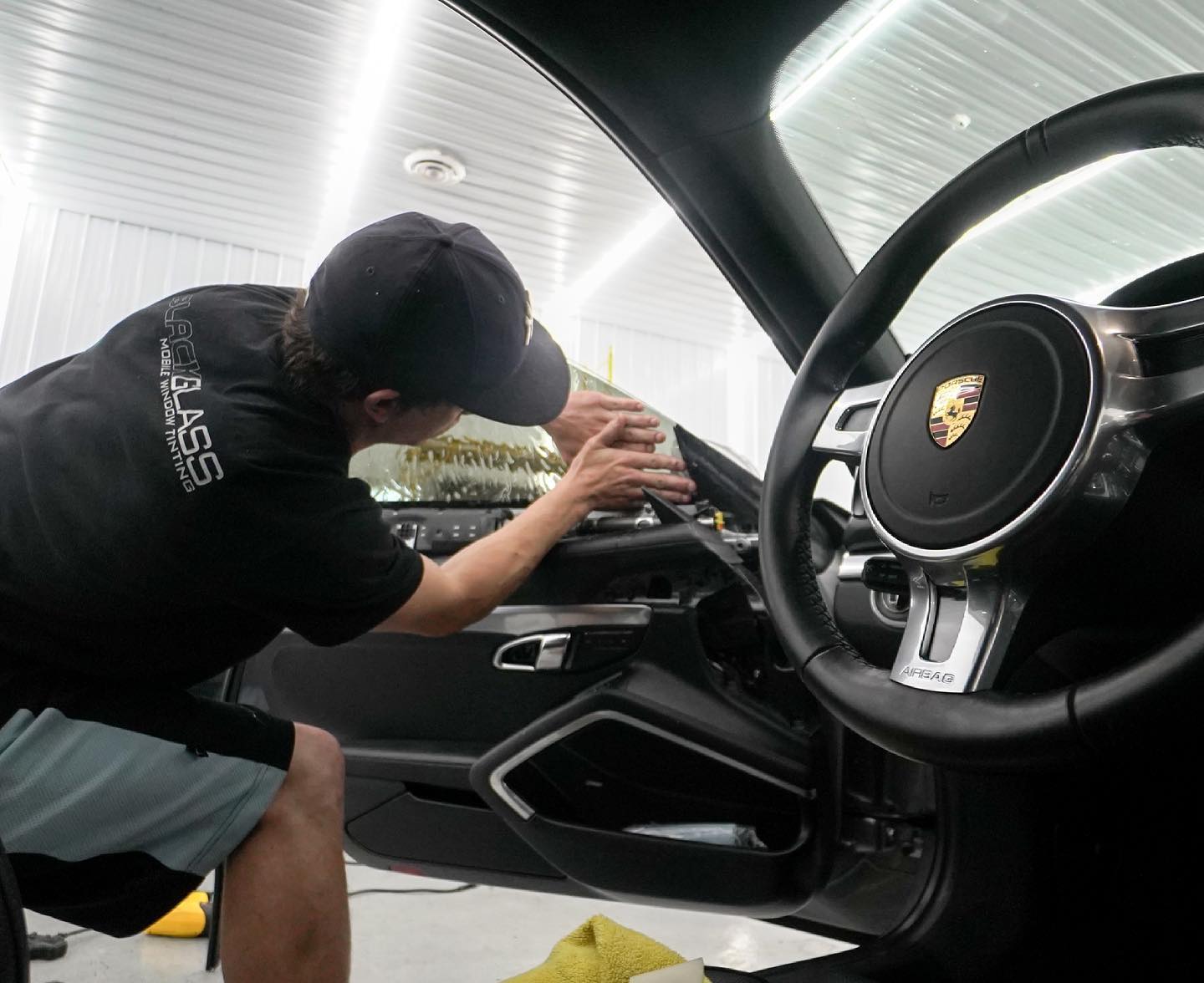 We can add a precise Computer Cut Curved Windshield Brow! We can install them to be fully legal (to the AS-1 line) or a little larger where it will look and function the best. When you choose to place a strip of tint at the top of your windshield you can almost eliminate the need to pull your visor down, even on the sunniest of days, while still being able to see traffic lights as they are not fully opaque.
Want a Full Windshield Tint?
Yes we do that too! We have many options available.
Selection guide for the film viewer:
"Dark" = 5-18% for the Most Privacy!.
"Medium" = 25-28% Most Commonly chosen! Not dark enough to typically get your pulled over, but will make a dramatic change in the appearance of your ride.
"Light"=33-80% When you are looking for heat rejection without the risk of tickets or changing the feel of driving your car.
Legal: Local vehicle PA laws only allow 70% Visible Light Transmission and All of the films we offer are technically illegal when placed on the front door windows and windshield. You will be tinting at your own risk. (Although getting a ticket is rare, you will be tinting at your own risk. We always recommend checking your local laws.
Our LLumar Tint Offerings
LLumar: ATC
(Available in 5%, 18%, 25% 33%)
While offering enhanced privacy and style, this comes with minimal heat rejection. Llumar ATC Series has true charcoal color that is dyed all the way through. Choosing this tint will give you a standout look with on-the-road privacy. Limited Lifetime Non-Transferrable warranty. 
FormulaOne by LLumar: PINNACLE PLUS
(Available in 5%, 19%, 28%, 34%, 44%, 55%, Air80)
When deciding on LLumar Pinnacle Plus series, you are choosing to cover your vehicle with a great all-around performance automobile window tint. The innovative nano-ceramic construction offers the best UV protection, maximum heat rejection along with glare reduction. You will receive all of these benefits without interfering with signals from electronic devices. The LLumar Pinnacle series come with a Coast to Coast Lifetime Warranty that can transfer if you decide to sell your vehicle! 
FormulaOne by LLumar: STRATOS
(Available in 17%, 32%, 42%, 56%, 69%)
Stratos is arguably one of the best films on the market, outperforming its competitors, while keeping a beautiful neutral Black color unlike others. When you are looking for the best, Stratos film is the solution!
Visit our showroom for a demonstration to feel the heat rejection ability of this tint, you have to feel it to believe it. 
The LLumar Stratos Tint comes with a Coast to Coast Lifetime Warranty that can transfer if you choose to sell your vehicle.
Although it is not a requirement, a clean car will make for a cleaner tint job. We would appreciate your help with cleaning your personal items out, and if possible, take your car through a car wash. Choose STRATOS film and receive a complimentary car wash! We also offer full service detailing here, and can clean your vehicle the same time we complete your tint. (drop-off recommended) Please mention you would like this service added at the time of appointment scheduling so we can plan accordingly!