Residential & Commercial Glass Tinting
Keeping your space comfortable either at home or at the office is important.
We spend most of our time indoors and we are much more productive and happier when our surroundings are at optimal temperatures. Having BlackGlass Window Tinting + More install professional window tint to these areas can certainly help make this time more enjoyable. You can choose a suitable level of tint from our extensive inventory, and have full control of how much natural light will enter your space. Contact us today for a Quote, or let us know if you have any questions. We have worked with many Pennsylvania business owners and look forward to hearing from you.
Benefits of Tinting your Home or Office Windows
Makes the space more comfortable. Tinting all of the windows in a sun room can lower the internal temperature by 20 degrees. This will save you significantly on cooling costs.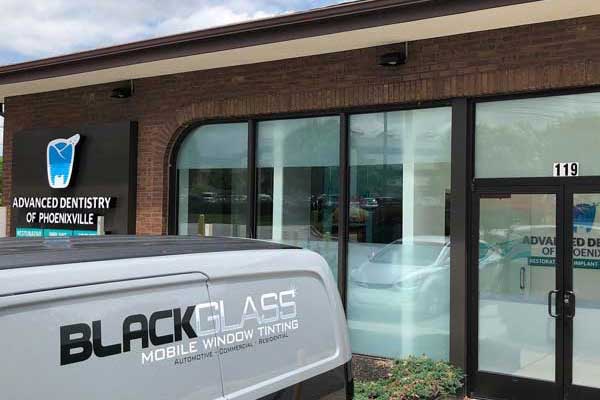 Blocks 99% of harmful UV rays. You're not only protecting yourself from these harmful rays, you are also investing in your home or office. UV rays, over time, will damage furniture, draperies, flooring & Wall coverings. These items can have a significant replacement cost. So not only will your new tint look great, it will also feel great!
Adds instantly to your investment. Adding a thick film to your residential or commercial glass can hold broken glass together making them very difficult to break through, and prevents sharp glass from falling. We also offer extremely thick security films which will help deter intruders when attached to your window frames.
Remove Glare completely making your space much more comfortable and user friendly. We have many different window tint options available and in stock to choose from. Our professional team is available to walk you through the process of choosing the perfect product to fit your needs.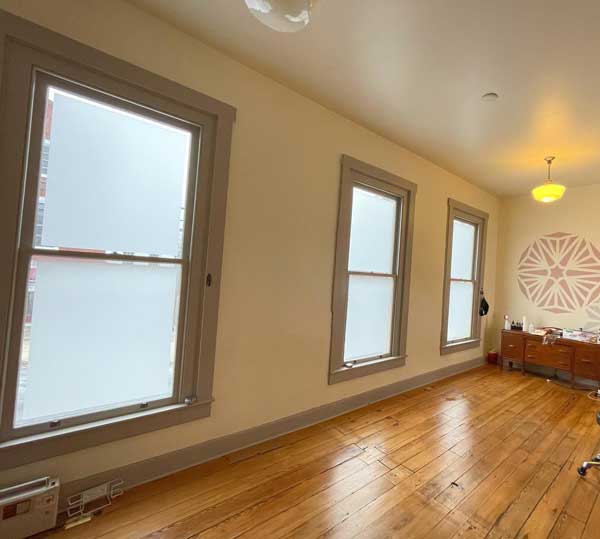 We can help with those windows that are difficult to cover with traditional blinds and shades. Window Tint is the answer when you don't want to lose all of your natural sunlight.
Add a level of privacy without completely losing all visibility to the rest of the area. These can be customized to the atmosphere of the office or workspace.
Clear
Reflective Silver
Dual Zone Silver/Black hybrid
White Frost
Bronze
Neutral Smoke
Full Blackout
Custom Printed logos / vinyl application
Commercial advertisement print / installation
And many more